Mitra School of Nursing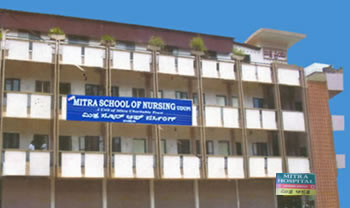 Mitra Charitable Trust was founded in 2004 under the auspicious guidance of HH Vidyavallabha Theertha Swamiji of Shri Kaniyoor Math.
This Trust was started with the intention of extending medical and educational services to a large population. The Trust is ably nurtured by Dr Shreedhar Holla N., the Medical Director of Mitra School of Nursing and Mitra Hospital, Udupi. Dr P.N. Srinivas Rao, one of the Trustees and renowned eye specialist and pioneer in the educational field was instrumental in starting this nursing school. Dr B.G. Acharya, senior family physician, one of the trustees, is taking active role in the administration and guiding the school.
Mitra School of Nursing was established in 2005 by Mitra Charitable Trust. It imparts training in Diploma in General Nursing. The school is located at Udupi, five kms away from the international renowned Manipal educational campus.
Mitra School of Nursing is now functioning at a more comfortable and spacious new premises at Maruthi Veethika and also Ramanjaneya Building, adjacent to Mitra Hospital for bedside teaching.
Mitra Hospital, a 150-bedded hospital with 22 years in active medical practice, and Mitra Diagnostic Centre are joining hands with Mitra School of Nursing in rendering good nursing and medical services. Majority of the nurses who passed out from this school were selected under campus interview for placement in various medical institutions.