OPD & Inpatient facilities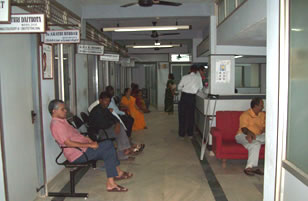 Mitra Hospital Has a very busy Out Patient Department (OPD), where many outpatients are seen by specialists and consultants everyday.
We have a very fine OPD team, including some visiting doctors. (For list of our full team, click here).
Inpatient facilities are designed for maximum patient comfort and are highly personalised and completely professional.
Rooms are available for short and long term stay. Various classes of accommodation are available such as Deluxe AC, Special, Semi-Special and General Wards.
---
Diagnostic Centre
Computerised Clinical Laboratory
Regular Cardiac OPD
Physiotherapy
Ultrasonography with Colour Doppler
X-ray unit
Arthroscopy
Treadmill Test
Endoscopy
Audiometry
ECG & Cardiac Monitoring
Echocardiography
Neonatal Wing
Laparoscopic Surgery
Specialist Clinics
Dental Wing
Three Operation Theatres
Intensive Care Unit
---
Pharmacy
Mitra Hospital has a 24-hour Pharmacy and drug store (see photo below).