Paediatrics
Paediatrics is a branch of medical care that deals with the medical care of infants, children, and adolescents. Childhood is the period of greatest growth, development and maturation of the various organ systems in the body. Treating a child is not like treating a miniature adult.
Mitra Hospital takes great pride in treating the little ones with loving and tender care. It has facility for paediatric Surgery with a separate Paediatric care.
Neonatology & Paediatrics: We have incubators and phototherapy units and a separate paediatric ward. A foetal monitoring system helps in detecting complications during pregnancy.
Dr Venugopal Rao (seen in photo above with a patient), Dr K. Kumaraswami, Dr Krishnamurhy Upadhyay and Dr Mahadev Bhat form the team of paediatricians.
---
Gynaecology & Obstetrics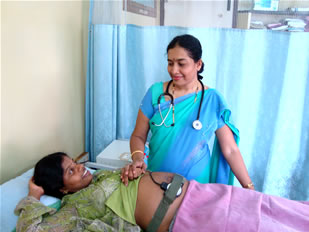 OPD consultations, a well-equipped airconditioned labour room and a separate maternity ward are available in Mitra Hospital.
With qualified and experienced Lady Gynaecologist, the Department offers a variety of highly specialised tests, in the fileds of Gynaecology, Fertility and Obstetrics. Gynaecological surgeries are performed with the assistance of Laparoscopic instruments.
The OBG teams consists of Dr Savithri Daithota, MBBS, DGO; Dr Arathi Hebbar, MMBS, MD (Gyn) (above, in photo); Dr Satish Kamath, MBBS, MD (Gyn); and Dr Geetanjali, MBBS, MD (Gyn).