General Surgery
Mitra Hospital has three well-equipped Operation Theatres, where major and minor surgery are performed regularly.
While two OTs are for surgeries performed under general anaesthesia, the third OT is for minor surgeries performed under local anaesthesia.
Dr Y.S. Rao, MBBS, MS (Gen. Surgery) conducts surgical procedures at Mitra Hospital.
---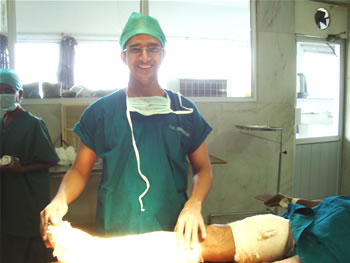 Orthopaedics is the branch of surgery concerned with conditions involving the musculoskeletal system.
Orthopaedic surgeons use both surgical and non-surgical means to test musculoskeletal trauma, degenerative diseases, infections, tumours and other conditions.
Mitra Hospital has a regular Orthopaedic OPD. With highly qualified and experienced Orthopaedic Surgeons who are available round the clock, the department provides prompt treatment for emergencies too.
The orthopaedic team consists of Dr G. Chennakeshava Rao, MBBS, MS (Ortho), Dr Sandesh Shetty, MBBS, MD (Ortho), and Dr Prakash Bhat, all with long years of experience in the field.