General Medicine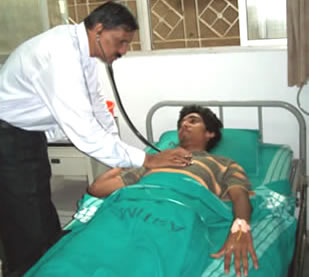 This department forms the backbone of the hospital, being the provider of basic care, intensive and critical care and medicine.
As the hospital is run by the Chief Physician there is continuity of medical support to treat patients with critical illness and emergency situations. This team consists of Dr Shreedhar Holla N. MBBS, MD (left, checking a patient); Dr N.G.K. Sharma, MBBS, MD; Dr Udaya Prabhu, MBBS DNB; and Dr B.G. Acharya, MBBS.
The General Medicine Department is ably assisted by a group of RMOs headed by Dr Rajashree P.R.
---
Cardiology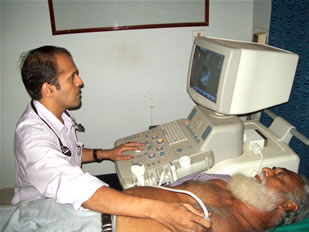 Cardiology is a speciality dealing with the disorders of the heart and blood vessels. This includes diagnosis and treatment of coronary heart disease, congenital heart defects and heart failure.
In Cardiology, the need of the hour is interventional cardiology like Angiopgraphy and Angioplasty, which is available in the hospital.
Mitra Hospital has a regular cardiac OPD. The patients are offered 2D Echocardiography with Colour Doppler for non-invasive procedure.
There is the facility for a TMT (Treadmill Test) to detect suspected cardiac anomalies. Besides Dr Shreedhar Holla, the services of Dr Padmanabh Kamath, MBBS, MD, DM (in photo with patient), an interventional cardiologist, are also available.